Edaphic changes caused by use of fertilizers of natural origin in a coffee region of Veracruz, México
Keywords:
organic manure, Coffea arabica, coffee pulp, liming, luvisols
Abstract
Mexico is an important producer of organic coffee worldwide. A sector of coffee growers in the municipality of Ixhuatlán del Café, Veracruz, Mexico, use organic amendments as edaphic improvers. Hypothetically, the contributions of these organic fertilizers cause edaphic changes that improve coffee production. Therefore, the objective of this study was to determine changes in soil chemical fertility caused by incorporating fertilizer mixtures made from organic sources, as well as their contribution to improving yield. To verify this hypothesis, four organic fertilizers formulated from dolomite lime, coffee pulp (PC), biol (fermented liquid fertilizer) and a soil improver called PSD® were added to a Cromic Luvisol (cutanic) soil. After three, six and nine months, the contribution of the treatments to the soil variables organic matter, pH, electrical conductivity, nitrogen, phosphorus, and interchangeable bases (K, Ca, Mg, Na) were determined. In parallel, yield was evaluated. The results indicate that six months after application of the treatments, the greatest depletion of the organic sources added occurs, coinciding with a greater release of the nutrients. The dose of 300 g of dolomite lime tree-1 supplied (Treatment 1) was insuff icient to neutralize the strong initial soil acidity (pH 4.3). The coffee pulp and biol utilized are organic fertilizers that, because of their C: N ratio of less than 16, are of rapid mineralization and slightly increased levels of nitrogen, phosphorus and interchangeable bases, reaching only low or moderately low levels. The dolomite lime and PCD® of Treatment 4 improved the pH, Ca and Mg, although these changes are not reflected in increased coffee yield.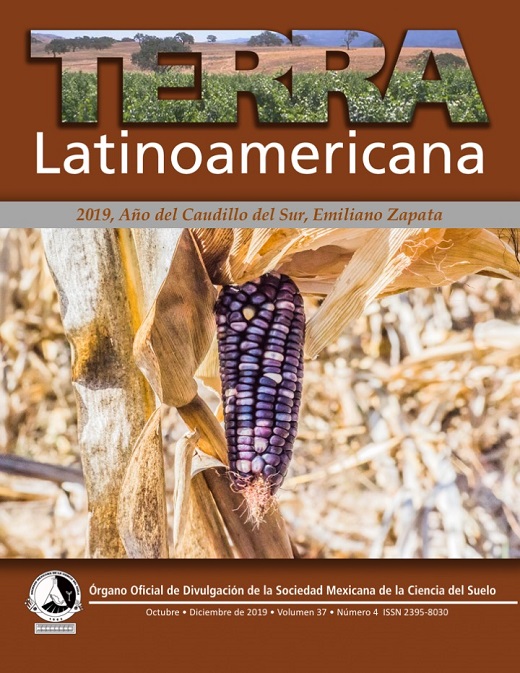 Section
Scientific Papers