Hydrochemistry and water quality for irrigation of RH 21 and 23 costa de Oaxaca and costa de Chiapas, Mexico
Keywords:
facie, permeability index, saturation index, salinity, sodicity
Abstract
The hydrological region 21 coast of Oaxaca has an active tourist dynamic, it generates significant economic income, and it is considered the fourth most important socioeconomic region in the state of Oaxaca. Similarly, hydrological region 23 coast of Chiapas, has an economy governed by tertiary sector activities and is comprised of the Istmo-Costa and Soconusco socioeconomic regions, the latter is the main region that contributes to the gross domestic product of the state of Chiapas. It should be noted that this socioeconomic growth has required a greater demand for water resources, which has led to water pollution. The deterioration of the area's water resources is caused by the discharge of wastewater, solid waste and agrochemicals into natural waterways. In order to assess the state of the water resources of hydrological regions 21 and 23, 31 sampling sites were established in the spring of 2021 distributed in the main streams. Each sample was analyzed for chemical properties: pH, electrical conductivity (EC), major anions and cations (CO32-, HCO3-, Cl-, SO42-, Ca2+, Mg2+, Na+ and K+), total dissolved solids (TDS), percentage of sodium (%Na), adsorption ratio of sodium (RAS), residual sodium carbonate (RSC), permeability index (PI), as well as a hydrochemical evaluation. The waters of the hydrological regions 21 and 23 present as dominant facies the calcium-magnesium bicarbonate, whose possible origin is a consequence of the dilution process of the geological material (water-rock interaction) with low and medium concentrations. With respect to salinity, 45.16% are low salinity waters and 93.55% of the sites have low sodium, therefore, they are considered recommended for irrigation with moderate restrictions.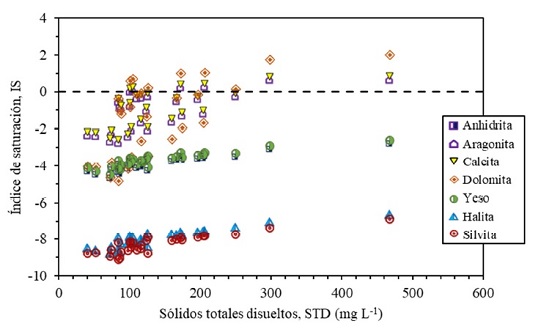 Section
Alternativas del uso y manejo del suelo del agua y la vegetación