Land use change by the NAICM construction in Texcoco, Mexico State
Keywords:
airport, supervised classification, urban growth, remote sensing
Abstract
Mexico's New International Airport megaproject was announced for the first time in 2001 and canceled in 2019; however, most of its construction progress took place during 2012-2018. With its announcement and cancellation there was a land use change and speculation regarding the land value. This study evaluates the impact that the airport construction and cancellation had over land use change in the municipality of Texcoco and neighboring municipalities in Mexico State, and the perception of key players concerning its effects. High-resolution images from the Sentinel-2 satellite were processed for the years 2016 to 2021. Geographic information systems were used to carry out a supervised classification with spectral indices and generate thematic maps of land use with four classes: bare soil, vegetated soil, urban land and water bodies. Interviews were applied to key players for a qualitative analysis of the appreciation of changes and effects derived from the airport project. Results show a higher growth rate of urban land from 2016 to 2017, mainly close to the airport building, replacing mostly bare soil. The airport caused discontent in the population by its environmental effects and social consequences, such as problems due to freight vehicles traffic. As a result of the airport cancellation, there is bare ground caused by mine exploitation and vehicular insecurity due to incomplete roads.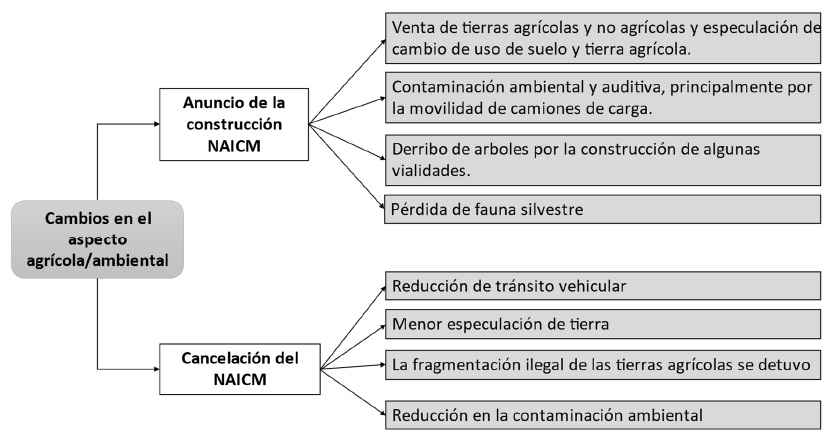 Section
Scientific Papers