Biomass, harvest index, yield and intercepted radiation in garlic as a function of nitrogen, in temperate climate.
Bernardo Cárdenas Velázquez

José Alberto Salvador Escalante Estrada

COLEGIO DE POSTGRADUADOS CAMPUS MONTECILLO POSTGARDO MEN BOTÁNICA

María Teresa Rodríguez González
Keywords:
agronomic eff iciency, bulb length, bulb weight in f ield, phenology
Abstract
Application of nitrogen (N) to garlic crops has been the subject of several investigations with different cultivars, growing conditions and variable response in the yield. However, the study on phenology, intercepted radiation, agronomic variables, yield and agronomic eff iciency of N are limited, and this was the objective of the present work. The research was conducted during autumn-winter 2016-2017 in the experimental f ield of the Colegio de Postgraduados, campus Montecillo, Texcoco, State of Mexico, Mexico (19° 29' N and 98° 53' W and 2250 m of altitude), with a temperate climate and clay-silty soil under irrigation. Sowing of the native cultivar "Pata de mula" was on October 24, 2016 and harvest was 150 days after planting. The sowing pattern (topological arrangement) was 15 × 15 cm. The treatments consisted of the application of 0, 100, 200, 300 kg N ha-1. The experimental design was random blocks with four replications. Results indicate that nitrogen supply did not affect the days to occurrence of phenological phases but caused an increase in the intercepted radiation, number of cloves, bulb size, and plant and bulb weight. Distribution of dry matter in the plant and harvest index were not affected by the application of N. The highest bulb yield was obtained with N200 and N300.  It was considered that 200 kg N ha‑1 is the optimum dose for the crop in this region with which the highest agronomic eff iciency of nitrogen is obtained.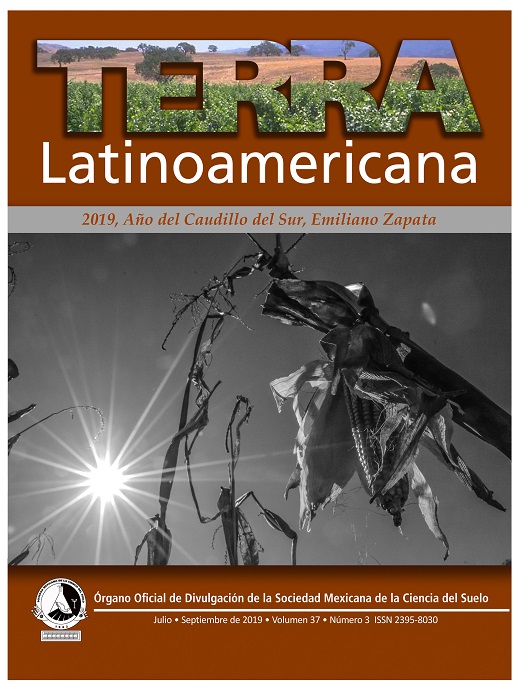 Section
Scientific Papers