Biofortification with Silicon in the Development and Yield of Pepper (Capsicum annuum L.) in a Controlled Environment
Juan José Reyes-Pérez

Universidad Técnica Estatal de Quevedo

https://orcid.org/0000-0001-5372-2523

Sergio Rodríguez-Rodríguez

Juan Antonio Torres-Rodríguez

Luis Tarquino Llerena-Ramos

Luis Guillermo Hernández-Montiel

Francisco Higinio Ruiz-Espinoza
Keywords:
adaptation, fertilization, hormesis, cultural tasks
Abstract
There is currently a high demand in world markets for peppers (Capsicum annuum), however, nutritional and pathogenic problems reduce its production. The use of silicon is an alternative to improve the phytosanitary and productive characteristics of the pepper crop. In this context, our objective was to evaluate the effect of silicon on crop growth and yield under controlled conditions. The study was carried out in the greenhouse of the Faculty of Livestock and Biological Sciences or Agricultural and Forestry "La María". The experimental approach was a completely randomized design (CRD) with different concentrations of silicon: T1: 10 g, T2: 12 g and
T3: 14 g plant-1 respectively, T4: Farmer control, and T5: Absolute control. Plant height was evaluated during four consecutive weeks. After 90 days of crop, the number and weight of productive fruits were evaluated. Our results show that the application of 10 g of silicon plant-1 increased plant growth by 12 cm compared to the absolute control and agricultural yield with average values of 24 662 kg ha-1, compared with the rest of the treatments.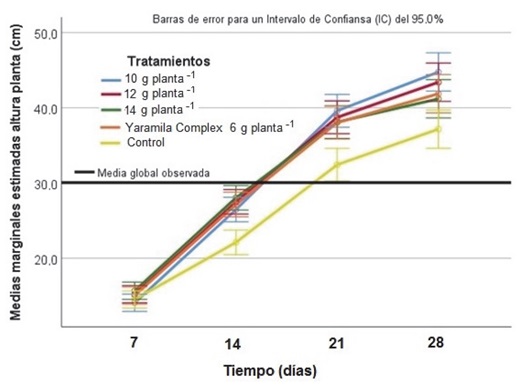 Section
Scientific Papers